ThingLink creations start with the blue create button. Click CREATE to upload images, videos, and 360° content.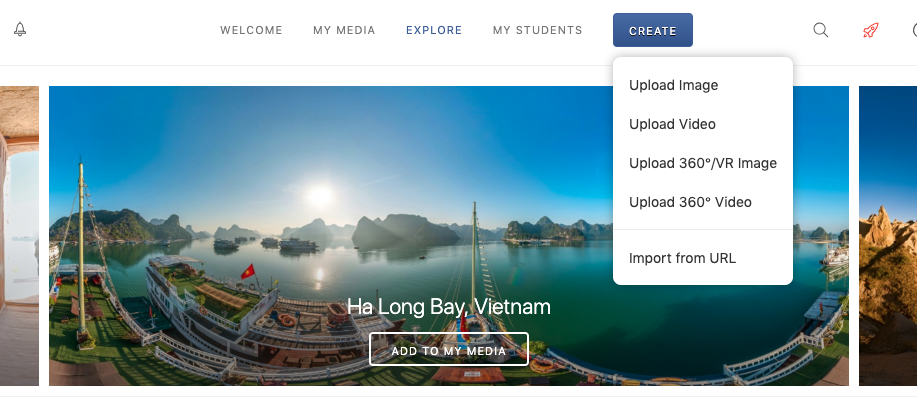 The first four options (Upload Image, Upload Video, Upload 360° Image, Upload 360° Video) are used to upload files from your hard drive. 'Import from URL' allows importing images or videos from YouTube via URL.
If you are importing an image from URL, please make sure that the link leads to an image (i.e. the URL ends with .jpg or other file extensions).
File specifications:
Images:
Supported file formats: JPEG, PNG, GIF, aPNG
Image resolution: Any resolution is supported
Max File size: 25mb
Note that you can use GIF and aPNG files for animated background.
Videos:
Supported file formats: MP4, M4A, MOV
Max Video resolution: 3840 x 1920
Max File size: 2 GB
Codec: H264 video codec and AAC audio codec
360° Images:
File format: JPEG
Aspect ratio: 2:1
Max resolution: 8192 x 4096
Max file size: 25 Mb
While 360° images may have different aspect ratios, our editor supports only 2:1 aspect ratio.
If your image does not look right after being uploaded, you might be uploading a dual-fisheye image instead of a normal equirectangular photo. Please see this article for more information or submit a tech support request.
360° Videos:
File format: MP4 video

Aspect ratio: 2:1 (e.g. 2000x1000)

Maximum resolution: 3840 x 1920

Codec: H264 video codec and AAC audio codec (if present)
Video and image content for 'Text & media' tags:
Both videos and images can be uploaded into Text & Media tags
Each file must be under 25 Mb
The tags support the same video & image file formats (mp4, and JPEG, PNG, GIF, aPNG respectively)