General info
What does ThingLink offer? ThingLink empowers instructional technologists, teacher and students of any skill level to easily create and share interactive media across various classroom settings.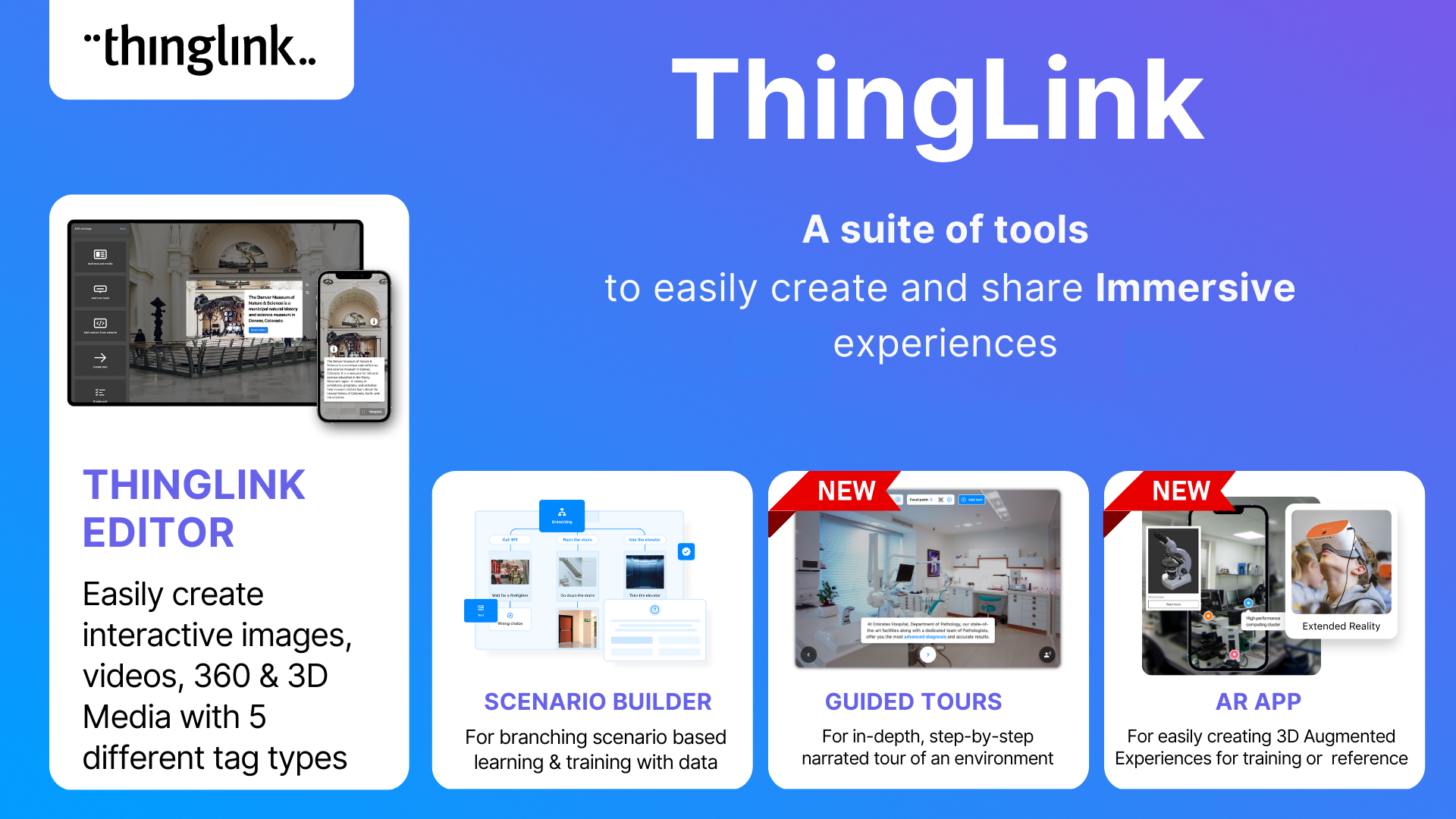 What types of media can I create with ThingLink? ThingLink provides a 5-in-1 solution! You can use ThingLink interactive tags in images, videos, 360°/VR images, 360°/VR videos and 3d objects. These may be used to enhance your infographics and maps, create narrated 360° tours and more. ThingLink Scenario Builder allows you to build learning simulations with branching, condition (question) building, timers and more around your interactive media. Click the pink/red tag on this ThingLink here to explore the five types of interactive media in action.
Where can I share my ThingLink content? ThingLinks are fully responsive and work excellent on all devices, from small phones to large touch screens. Phones, tablets, desktops, touch screens, big screen TVs, mobile VR headsets, WebVR and ClassVR. ThingLinks work on all major web browsers and meets WCAG 2.1 web accessibility standards. It's most common to embed ThingLinks to your learning management system (LMS) or school website through iframe. You can test embedding on any of your platforms with our sample embed codes here. ThingLink is a Microsoft Gold Partner and you can publish your content to Teams, Powerpoint, Sharepoint, OneNote and more. You can publish content to Google Sites and various Google Classroom locations.
Do students need an account to view ThingLinks? No, ThingLinks do not require an account to be viewed as an embed or on our website. Please note that if the content privacy/visibility is set to "My Organization", it requires the viewer to log into ThingLink to view the content. We recommend adjusting your content to "Public" or "Unlisted" when publishing your content to a wider audience.
Do you provide users with preloaded content? While ThingLink doesn't provide preloaded content or the ability to design base media, we do have integrations with Canva and Unsplash. You can access your Canva account within the ThingLink upload flow as a way to quickly design professional quality images. Unsplash gives you quick access to over a million searchable, free images for use in all your ThingLinks. ThingLink 360° Library is a curated collection of professional 360 degree images from culturally relevant historic and natural sites that can be used to build immersive learning experiences and to travel across the world. You can clone any of these assets onto your ThingLink profile!
Do you support SSO and LTI integrations? Yes, we support Azure Active Directory for Microsoft SSO and Workspaces for Google SSO. Yes, we support LTI 1.1 for onboarding users and LTI 1.3 for deep linking. Canvas, Moodle, D2L Brightspace, Blackboard, Schoology & ItsLearning LTI integrations are currently supported.
Can you download ThingLinks for offline use? ThingLink content can be downloaded for offline use on desktop as a part of our offline desktop viewing application. in settings with limited or no wireless connection. ThingLinks can't be downloaded as offline files and is not SCORM compliant.
Do you offer training and professional development opportunities? Yes, we have a self-paced Certified Creator Course that any user can access within the Learning Center of the interface. Please reference our support help center for documentation on all aspects of ThingLink. Our support team is always here to help answer questions that aren't resolved in the help center. Large School and Academic license purchases come with a live professional development training for your staff from a ThingLink expert.
Paid plans & free 60-Day trial accounts
Please know that these licenses are intended for the usage of teachers adding students to ThingLink. Students are creating content for classwork, presentations, projects and more. Contact us if you want to purchase a license for a larger group of teachers or learning designers creating content for student learning in your LMS.
What is the difference between the Schools and Academic licenses (K12 & Higher Education) and the eLearning licenses? eLearning accounts are best-suited for business organizations and governments training employees and organizing online courses, while School & Academic licenses are oriented at educational organizations for using ThingLink in the classroom or LMS, creating content for learning experiences and student projects.
What happens when my 60-day trial ends? When the free 60-day trial ends you will be prompted to upgrade the Teacher license. You will still be able to access your content and create new content, but with no sharing enabled. The privacy/visibility of previously created content will convert to My Organization from public. Upgrading the Teacher unlocks sharing to your classroom and LMS. You will retain access to your login & content once the trial ends and can upgrade at any point in the future.
How do I upgrade my ThingLink account? You can upgrade to the Teacher license by clicking the upgrade button in the top right of your account and submitting your billing information. If you wish to connect multiple teachers at once, we ask you to request a quote for a School or Academic license.
How can I use ThingLink as a FREE teacher? Free trial teacher accounts have access to test creating and sharing interactive content with a ThingLink scene link (no embedding) for 60 days. There is no student management under the free trial teacher account. You will be able to create content after the 60-day trial but with no sharing.
Do you have monthly plans and do I have to pay with card? We don't have monthly plans at this time, but if you have a special reason or case please don't hesitate to contact us. We can send invoices starting with the School license and individual Teacher license purchases must be processed with a card. Download a generic quote for the Teacher license here.
Can I pay with a purchase order? We only accept purchase orders (POs) for School and Academic license purchases. Individual Teacher upgrades must be purchased through the end user's account with a credit card.
What is the difference between student and teacher accounts? Students can only be added to ThingLink by their teachers and we don't provide free student accounts. Only group School and Academic licenses can add and manage students where students are creating their own interactive content. Request a quote for a School or Academic license from our sales team.
Can I measure my ThingLinks' efficiency? Yes! You can track your students' overall engagement using our in-built statistics tool. We also have a product called Scenario Builder that allows you to track individual student proficiency and performance through learning simulations. We have LTI 1.3 integrations with Canvas, Moodle, Blackboard, D2L Brightspace, Schoology & ItsLearning that allow instructional technologists to automatically send learner scores within the scenario builder to the LMS grade book.
I did not intend to purchase a subscription, where can I request a refund? You can request a refund by contacting our support. You can read more about refunds here.
360 content
Does ThingLink work with virtual reality headsets? Currently ThingLink 360° content works through a mobile VR headset like Google Cardboard as well as through WebVR supported devices like Microsoft Mixed Reality headsets and Oculus Quest 2. You can find a list of headsets tested by our team along with more information about viewing ThingLink content in VR here.
Miscellaneous
How does ThingLink handle student privacy? Please refer to our privacy and compliance FAQ. We also encourage you to read ThingLink's Privacy Policy and a blog post regarding GDPR. We are willing to complete privacy & compliance reviews prior to School and Academic license purchases.
What if I am using ThingLink for eLearning or training purposes? We have group accounts designed for teams of instructional technologists to create interactive content for student learning in the LMS. Request a quote from our sale team here.
What browsers does ThingLink work with? ThingLink is compatible with all major browsers (Chrome, Firefox, Safari, Opera, Edge). However, we strongly recommend keeping your browser updated as using old versions of browsers will likely result in technical issues.
Where is ThingLink hosted? Images, 360° images as well as VR experiences are hosted on AWS (Amazon Web Services), while videos and 360° videos are hosted and streamed on Microsoft Azure.
Can I change language in ThingLink? Yes, you can change the language of the ThingLink to select languages. Click here to learn more about changing the interface language.
Is ThingLink available in China? Yes, ThingLink works in China.
Contacting us
My question is not answered here, where can I get more help? Let our experienced support team answer your questions by messaging sales@thinglink.com or, submitting a support request.
Can I request a demo? Yes! You can schedule a live demo with our team here if your school is interested a School or Academic license. We don't provide demos for the single Teacher license.
I'm not sure about your licenses, can we get custom terms? Yes, if you have a special case request a custom quote and we can help you figure out the best license and price for your usage.
Where can I submit feature requests? We love hearing from you! Please share what features you want to see adding and why by submitting a message to support@thinglink.com. We take user feedback and feature requests very seriously.