How to change your editor language
The language for your editor is based on your location during the registration- please see the table below to learn which language is enabled for which country.
You can change the editor language by going to Account settings - User profile, selecting your preferred language from the Language menu and clicking the blue 'Save changes' button' at the bottom of the page: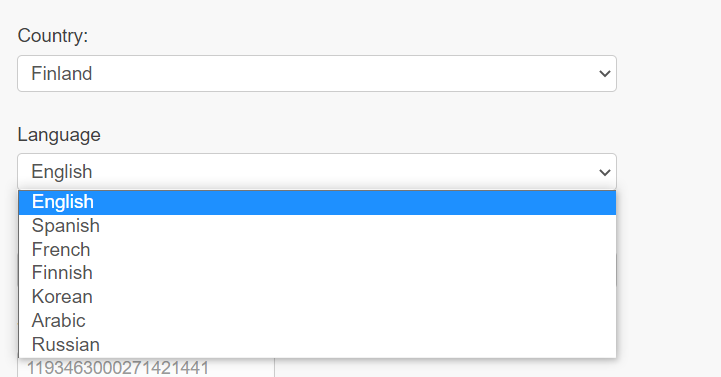 Languages & countries
| | |
| --- | --- |
| Language | Country code |
| French | BF, BI, BJ, BL, CD, CF, CG, CI, CM, DJ, FR, GA, GF, GN, GP, HT, MA, MC, MF, ML, MQ, NC, NE, PF, PM, RE, SC, SN, TD, TF, TG, WF, YT |
| Spanish | AR, BO, CL, CO, CR, CU, DO, EC, ES, GQ, GT, HN, MX, NI, PA, PE, PR, PY, SV, UY, VE |
| Arabic | AE, BH, DZ, EG, EH, IQ, JO, KM, KW, LB, LY, MR, OM, PS, QA, SA, SD, SY, TN, YE |
| Finnish | FI |
| Korean | KR |
| Russian | RU |
| English | All other countries |
How do I change the language for the rest of the website?
Only the editor is available in multiple languages. We are working on adding translations for the rest of the website.
Found something wrong? Contact our tech support!