In this article, you'll learn:
Note that the 'Organization' page and the options described below are not visible to all users:
Schools: all teachers can access the Users page. However, only admins can manage user accounts and see all users connected to the school.
eLearning accounts: only admins can access the Users page.

Marketing Premium Team accounts

: only the account owner can access this page.
Working with your Users list
You can access the list of the users connected to your organization by selecting the 'Organization' tab in the left-hand menu:
For each account, you can:
Change the user's password;
Deactivate (delete) or remove the account (see below);
Assign administrator rights (see below);
Change account type (student to teacher or vice versa). This option is available on School and paid classroom accounts.
Searching for specific users
You can click on the magnifying glass icon above the user list to search for specific users. Note that you'll need to enter the user's full username or domain to find them - ThingLink does not support partial search yet.
Using the filter function
You can also filter the user list or search results using the filter function. Simply click on the filter icon and select which filters you'd like to use: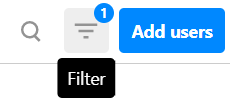 At the moment, there are 3 filters available:
Registration date (from .... to ....).
Last activity date (from .... to ....).
Account type (teacher, student or any account type). This filter is available on school accounts only.
Note that you do not have to pick both values for the registration date and last activity date. For example, you can pick the 'To' date but do not specify the 'From' date to find all users who've registered before a certain date: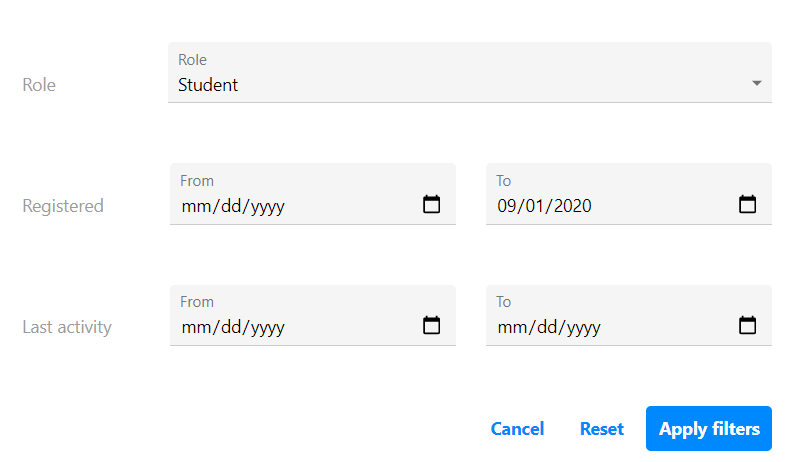 Deactivating & deleting accounts
If you'd like to delete a user, you will need to deactivate their account first. Find the user's account, then click 'More options' (three dots button) and select 'Deactivate':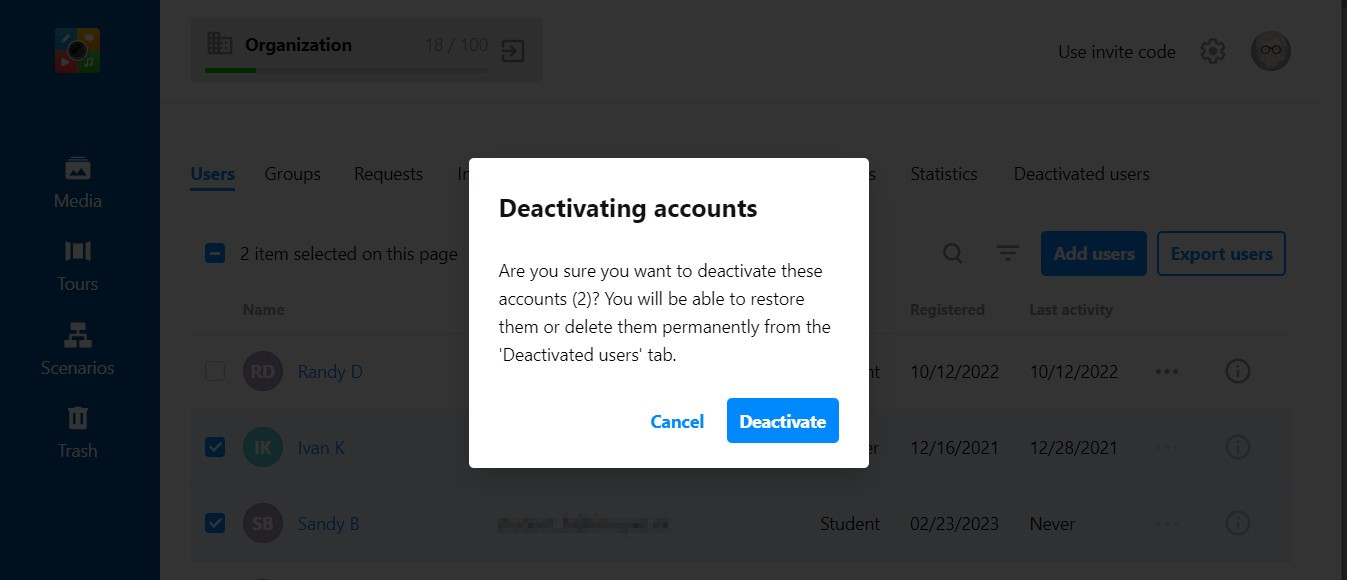 Once you deactivate the user's account, they will not be able to log in. Their content and folders will be deactivated, too. Once the account has been deactivated, you have three options available from the 'Deactivate users' page:
You can restore the user's account to allow them to use ThingLink again. This will reactivate all of their content, too.
You can delete the users account and all of their content permanently. If you select this option, you will not be able to recover their content.
You can transfer the user's content to another account before deleting them. See this article for more info.
You can also deactivate accounts in bulk by selecting multiple accounts & clicking the 'Deactivate users' (trash bin) button:
Tip: if you have a school account, you can use the filter function to select student accounts only. You can also filter the accounts by registration date to find & delete all students who've signed up e.g. last year.
Removing accounts from the organization
You also have an option to remove a user instead of deleting their account. This will disconnect them from your license and free up a seat but they'll still be able to keep all their content.
Adding administrators
All organizational accounts allow you to have multiple admins. If you'd like to make someone an admin, simply find their account on the 'Users' page, click the three dots and select 'Assign administrator rights':
Secondary admins can:
See & manage all users connected to your organizational account
Manage organizational settings
Assign administrator rights to other users
Share folders with the whole organization
Secondary admins cannot change or delete the primary admin account.
Revoking administrator rights
You can revoke administrator rights by clicking the three dots next to the user and selecting the 'Revoke administrator rights' option.