Content & overall profile engagement statistics are available for all paid plans. If you wish to access statistics for a particular creation, please refer to this article.
Accessing statistics.
You can access your profile stats by clicking your profile picture in the upper-right corner and selecting 'Statistics' from the drop-down menu: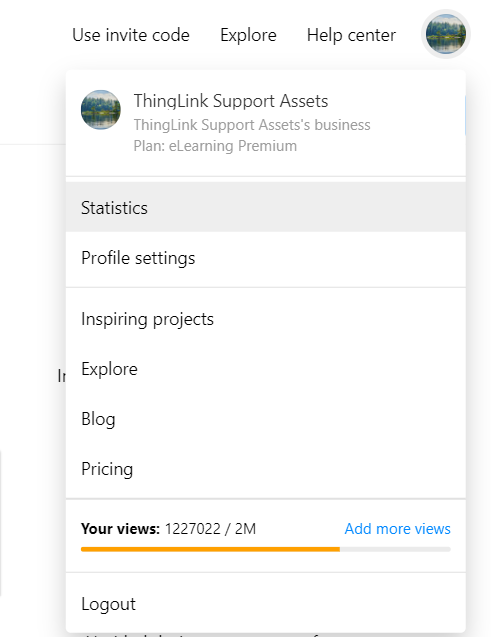 Reading & exporting statistics.
ThingLink tracks 3 main metrics:
Number of views - the total number of views your content has accrued.
Number of hovers - number of times your tags have been clicked or 'activated' by being hovered over.
Number of clicks - number of times viewers have clicked the link buttons inside your tags or used the tour tags.
You can select a predefined or a custom date range. In addition, we track both total and unique views. Total views show multiple hits for those who have viewed a ThingLink more than once, while unique views count only one view for each visitor.
Moreover, clicking the 'Export to Excel' button will send an Excel file containing data for all of your ThingLinks and embeds to your email address.
Note that this page includes data for all your content as well as any folders that have been shared with you. If a ThingLink scene belongs to your colleague, its stats will not be included.
Explore the ThingLink below to see how the interface works and how to choose different options.