Please note that your publishing options depend on your account type (Education, Marketing & Editorial, or eLearning) and your subscription plan.
Open a scene you'd like to publish, then click the 'Share' button in the upper-right corner. This will open a new pop-up window with different sharing options described below:
Embedding
Embed on website tab provides you with the embed code for the scene. The embed code is perfect for sharing the content on your own website or on a different platform, such as your LMS. In most cases, your content will appear seamlessly on your site, fully interactive. Note that website creators and certain blogs (Wix, WordPress, etc.) may limit iframe embed's functionality. Sample embed codes, as well as more notes regarding ThingLink embeds, are available in this article.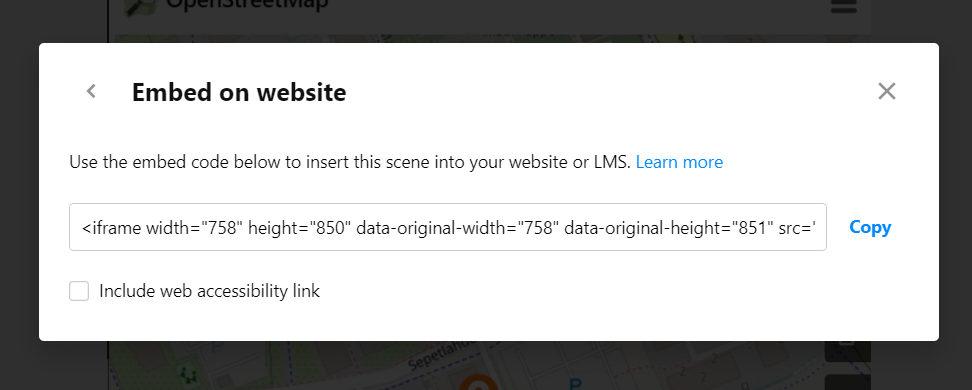 You can also tick the 'Include web accessibility link' box if you wish to include a text link to the accessibility-enhanced view of this scene.
Share link
Share link provides a shareable link that directs viewers to the page you are currently on. They will not need to sign up or log in to see the content if its privacy setting is 'Public' or 'Unlisted'.
You can click the QR code icon next to the link to generate a QR code, or quickly share your content to some social media websites:

Get direct link
Get direct link tab provides a shareable link that will open your content without any ThingLink interface. Simply copy & share the link or use the QR code button to generate a QR code. Learn more here.

View in VR
View in VR tab provides a link that you can use to view your ThingLink content in Virtual Reality (VR) mode. Simply copy the link and open it on your phone or VR headset. You can also use the 'Get short link' button to generate a short link - we highly recommend this for opening content in a headset. Learn more about ThingLink VR here.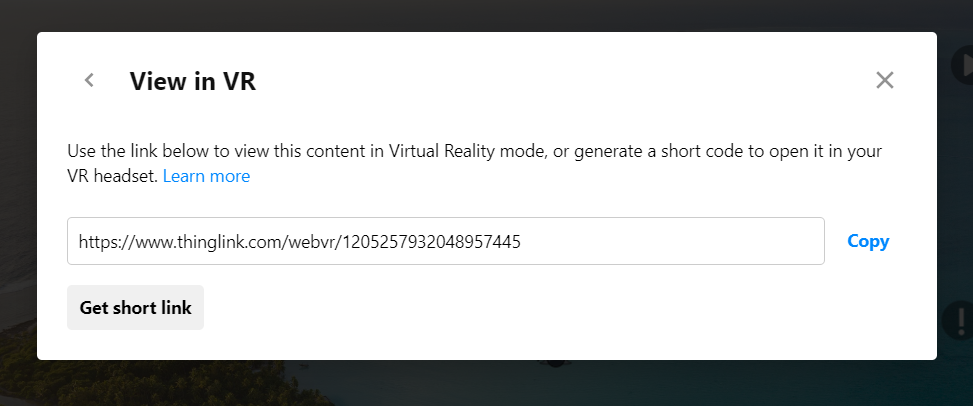 Insert ThingLinks in PowerPoint presentations
You can use the PowerPoint Add-in to embed ThingLinks into your presentations. Copy the link from the 'Insert in PowerPoint' tab and see this article for more info on how to install the Add-in: New feature: embed ThingLinks in PowerPoint
Accessibility player
The 'Accessibility' tab allows you to share your content using ThingLink's accessibility player - a special viewing mode designed to meet web accessibility standards. Learn more about the accessibility player here.
Changing the privacy settings
If you intend to share your work with someone who does not have a ThingLink account, you'll need to change the privacy setting to 'Unlisted' or 'Public'. Click the 'More actions' (three dots) button on the scene's page, then click 'Privacy settings' and select one of the options in the popup window: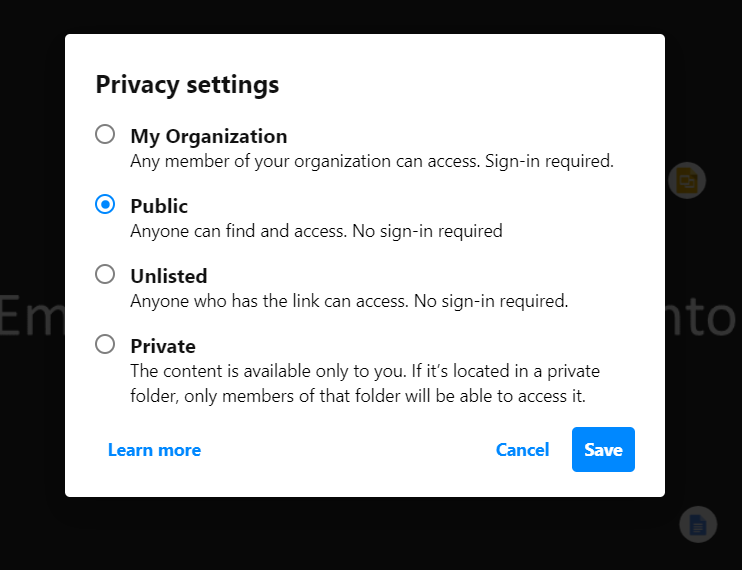 You can learn more about privacy settings here.