The Landing page is a customizable learning center that you can use to distribute scenarios to your learners. It is a good alternative for setting up courses inside your LMS as it will only display scenarios that the learner can access.
The Landing page can also be public. In that case, anyone with the link can visit your Landing page and explore any public scenarios you have published. Check out this page: https://www.thinglink.com/o/creator.
Availability
This feature is available on the eLearning Enterprise plan only. If you are interested in trying this feature on a different plan, please contact us.
How the landing page works
Private Landing page
When the user goes to your Landing page, they will be prompted to log in. Once logged in, they'll see all published scenarios that you have assigned to them in one place. Note that it is not possible to display other content types at the moment.
What the learner sees here depends on two factors:
Published/Unpublished scenarios: after you've enabled the Landing page in your organization settings, you'll see an option to Publish or Unpublish a scenario. Only published scenarios are visible on the Landing page. Unpublished scenarios will not be shown regardless of their visibility setting.
Scenario visibility setting
Here are some examples:
Published public scenarios and scenarios set to the 'My organization' visibility setting are shown to all users.
Published private scenarios are shown only if the scenario has been shared with the user or if they belong to a group that was added to the scenario.
Unpublished scenarios aren't visible to anyone. 
Public Landing page
If the Landing page is public, it can be accessed by anyone and won't require the user to sign in to their ThingLink account. If the user is not logged in to a ThingLink account, they'll see only published public scenarios. If the user is logged in, see the examples above.
How to set up & customize your landing page
Note that only admins can set up or customize the organization's landing page. 
To create a landing page, select the Organization tab in the navigation menu on the left, then select the Landing page tab. This will take you to a page where you can set up and customize your landing page: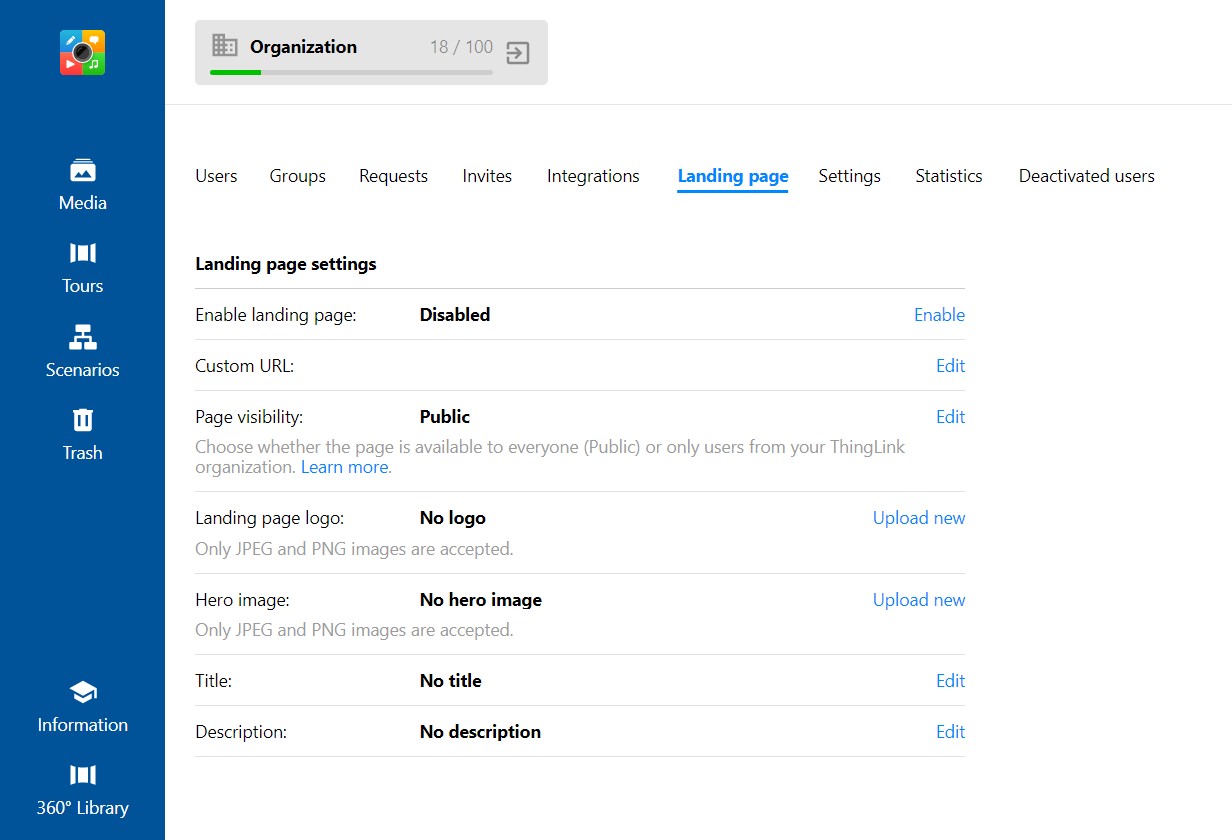 Enable landing page: determines if the landing page is active (enabled) or not (disabled). 
Custom URL: use this field to create a link that your learners will use to access the Landing page. All links use the following structure: https://www.thinglink.com/o/YourInput. For example, if you enter 'Nocontoso', the link to your landing page will be https://www.thinglink.com/o/nocontoso. The URL is not case-sensitive. 
Page visibility: Public pages are available to anyone and do not require the user to sign in. 'My organization' pages require the user to be logged in to their ThingLink account, and they must be part of your license/organization on ThingLink.
Landing page logo: the logo will be shown in the top-left corner of the landing page. Max image resolution: 500x200 pixels. Recommended image resolution: 500x200 pixels. Only JPEG and PNG images are supported.
Hero image: the hero image is shown in the middle of the screen. You can use it to provide some information to the learners or simply change the look of the page. Max image resolution: 2000x500 pixels. Only JPEG and PNG images are supported.
Title: the title will be shown on top of the hero image. Use it as a tagline for your page.
Description: the description is the short text displayed on top of the hero image. Use it to provide context or instructions on how to use the page.