ThingLink and Thinkific together enable you to seamlessly access both accounts. Easily create and embed contextual 360 scenes of real environments, infographics & annotated 3D models to excite and engage your course participants.
How to add ThingLink to your Thinkific account
Method One
Sign into your Thinkific account

Find ThingLink on the Thinkific App store (or click here) and click Install

This will enable you to create an account and login seamlessly to your new ThingLink account.

Create your content in ThingLink!
Method Two
Sign into your ThingLink account at thinglink.com/login

Add your domain (you can find it in your Thinkific Settings)

Click Accept and Install
Helpful Tip 1! This is your .thinkific.com URL domain rather than your custom added domain
Helpful Tip 2! You will need to be the site owner or site admin to install the app.
Embedding your ThingLink content in Thinkific
Embedding your interactive and engaging content from ThingLink into your Thinkific course is easy. There are two ways, a text lesson or a multimedia lesson. Check out this video on how to embed your ThingLink content in a Text-Based Lesson https://youtu.be/BYk34O5BFL4
Text-Based Lesson
(This is where you can put instructions or additional text before or after)
Create your Lesson and choose Text option

Click on Code View

Copy and Paste the Embed Code from your ThingLink. To get the code, open your ThingLink scene, click Share -> Embed on website

Save!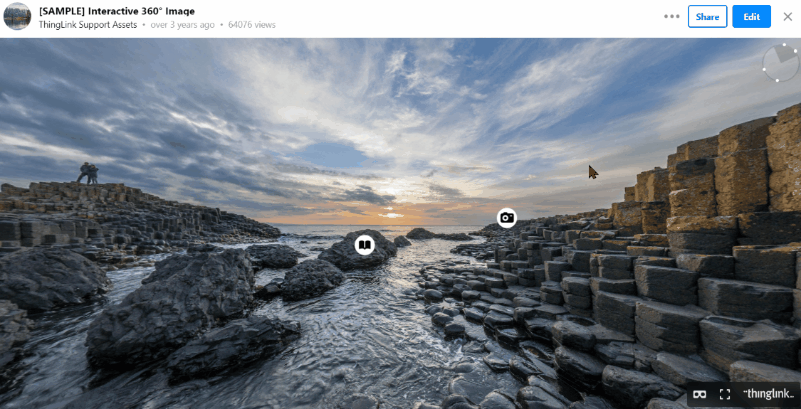 Helpful Tip! Remove your course margins to offer a wider screen view.
Multimedia Lesson
(This is the whole lesson)
Create your Lesson and chose Multimedia Option

Open your ThingLink scene, click Share -> Get Direct Link and copy the link

Paste the link into your Multimedia lesson

Save!