We are excited to announce a new update that allows you to convert panoramic images into full 360° photospheres. Simply shoot a panoramic image on your phone, upload it at https://www.thinglink.com/pano-to-360 and it will be converted into a 360° image. You can then upload the 360° image to your ThingLink account or use it with Guided Tours.
How to convert a panorama to a 360° image
Step 1: capture a panorama.
To get the best results, you will need a phone with an ultra-wide camera lens. Simply open your Camera app, select the Panorama mode, select the ultra-wide camera mode, and follow the on-screen instructions until you capture a complete panorama image.
If you are using an iPhone (iPhone 11 or newer), do the following:
Open the Camera app
Select Pano shooting mode
Important: select ultra-wide camera mode (0,5 zoom level)
Start shooting and slowly move your phone to the right following the on-screen arrow. Try to keep your phone even - the arrow point should stay on the line. Keep moving your phone until you take a complete panorama, otherwise the 360° image will be severely distorted.
If your smartphone does not have an ultra-wide camera mode, you can still take a panorama and use it with ThingLink. However, such panoramas cover less area, and the photosphere will contain more blurred areas.
Tip: start shooting from a point in space that is least relevant to your project. The converted photosphere will be missing roughly 10-15°, so by starting from the point of least interest, you make sure that nothing important is missing from the final image.
(Optional) Step 2: export the panorama to your desktop or laptop
Next, you can export the panoramic image to your computer so you can upload it to ThingLink. You can upload the image directly from your phone, but exporting the image to desktop guarantees best quality.
You can use any preferred method for exporting your images. We recommend connecting your phone to your computer via USB and transferring the files directly from the device for best results, but you can also email a copy of the image to yourself - make sure to select the 'Actual size' or other best quality option if you use this method.
Step 3: upload the image to ThingLink
If you want to use the panoramic image to create a regular 360° tour, do the following:
Click the 'Upload' button and select your panorama image.
Wait for the image to process. Once it is ready, click the Download button.
The converted 360° photosphere will be saved to your device. You can then upload it to your ThingLink account.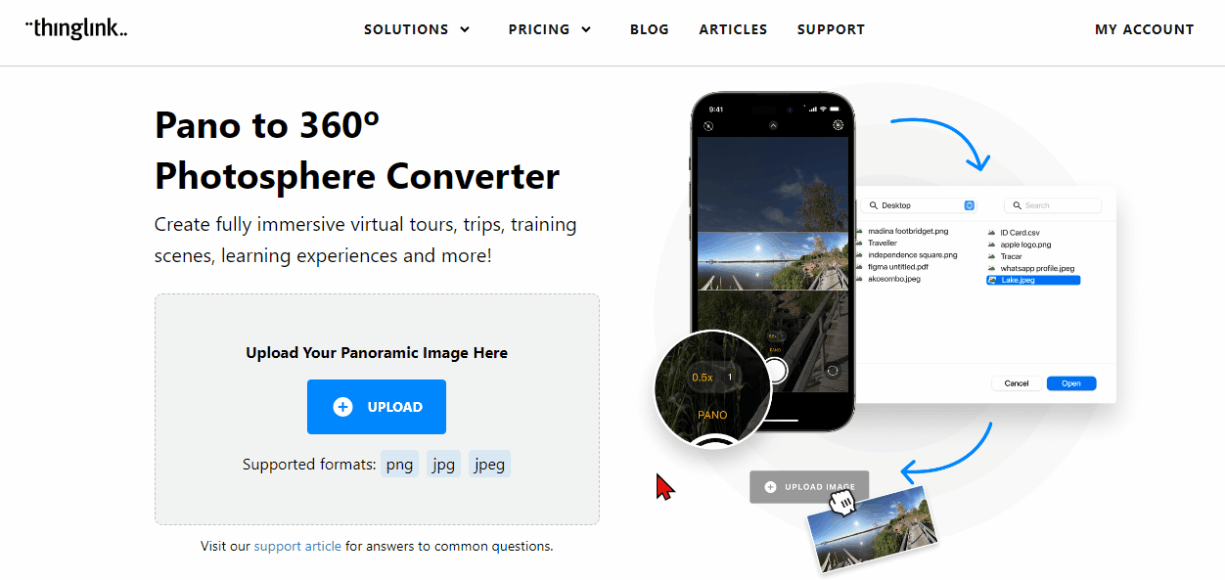 Upload directly to Guided Tours
If you intend to use your panorama for a Guided Tour, you do not need to convert the image manually. Simply sign in to your account, go to your guided tour (or create a new one), and upload the panoramic image. It will be converted automatically: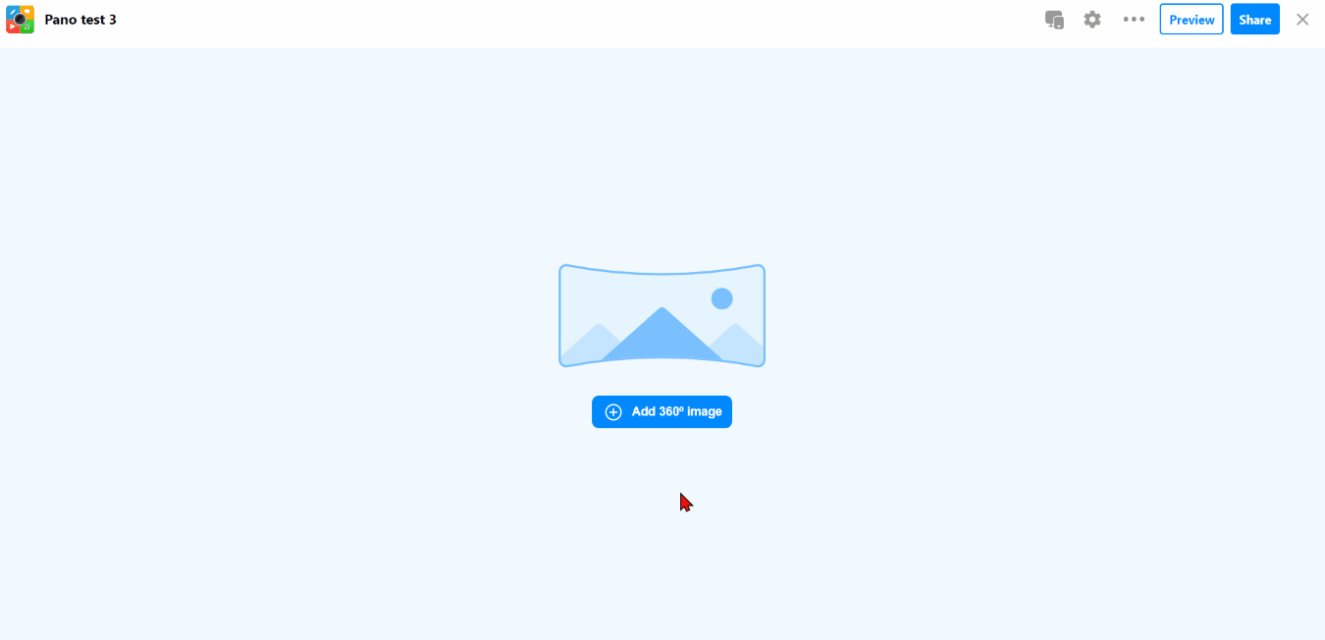 Limitations
Most panoramic images do not capture the space around you in a full circle. As a result, when the panorama is converted into a photosphere, you may notice a blurred seam.
The topmost and bottommost parts of the 360° image (the zenith and nadir) are replaced with blurred circles as these parts of the photosphere cannot be captured with a panorama.
When uploading from a desktop computer, the panoramic image must be in JPG or PNG format. If you try to upload a different file type (e.g. a HEIC image), you will receive an error. Note that you do not need to convert images from HEIC to JPG if you are uploading the image directly from your iPhone/iPad.
Please make sure to take a full panorama - don't stop shooting until you've covered as much as possible. On iOS, keep shooting until the panorama saves automatically.
Examples
Here's a guided tour created using panoramic images taken on an iPhone 12 Pro:
And here's a standard tour created on the same device: