Embed code allows you to add parts of other websites to your ThingLink media via the 'Add content from website' tag. This article provides instructions on how to get embed code from some of the most popular services.
Please note that ThingLink does not support all embeds but should work fine with any iframe code. Notable exceptions include Twitter, Facebook and Instagram.
Experiencing trouble with embed codes from other sources? Submit a request for tech support or let us know in the comments section below this article.
YouTube
There's no need to get the embed code, you can just paste the video URL inside an embed tag.
Google Maps
Select a location on Google Maps
Click the 'Share' button
At the top of the new modal, click 'Embed a map'
Click 'COPY HTML', then paste the code into a ThingLink tag
Google Slides
Click 'File' in the upper-right corner, then click 'Publish to the web'
Click 'Embed' in the modal window
Click 'Publish', then copy the iframe code
Google Forms
Click the 'Send' button in the upper-right corner
Select the <> button (third option)
Click 'Copy' to copy the iframe code, then paste it inside the ThingLink tag
SlideShare
Click the 'Share' button under the presentation
Copy the iframe code from the 'Embed' field, then paste it into a ThingLink tag
Microsoft Forms
Open the Form you'd like to share and click on the 'Share' button in the upper-right corner.
Click on the </> icon to display the embed code
Copy the embed code and paste it into a 'Add content from website' tag on ThingLink
General advice
ThingLink does not support embeds that require javascript (.js) due to security concerns.
In general, it is possible to embed whole pages (for instance, Wikipedia articles) inside a tag. However, please note that some websites specifically prohibit embedding their webpages on external domains. As a result, the tag will display an error message (may differ depending on your browser):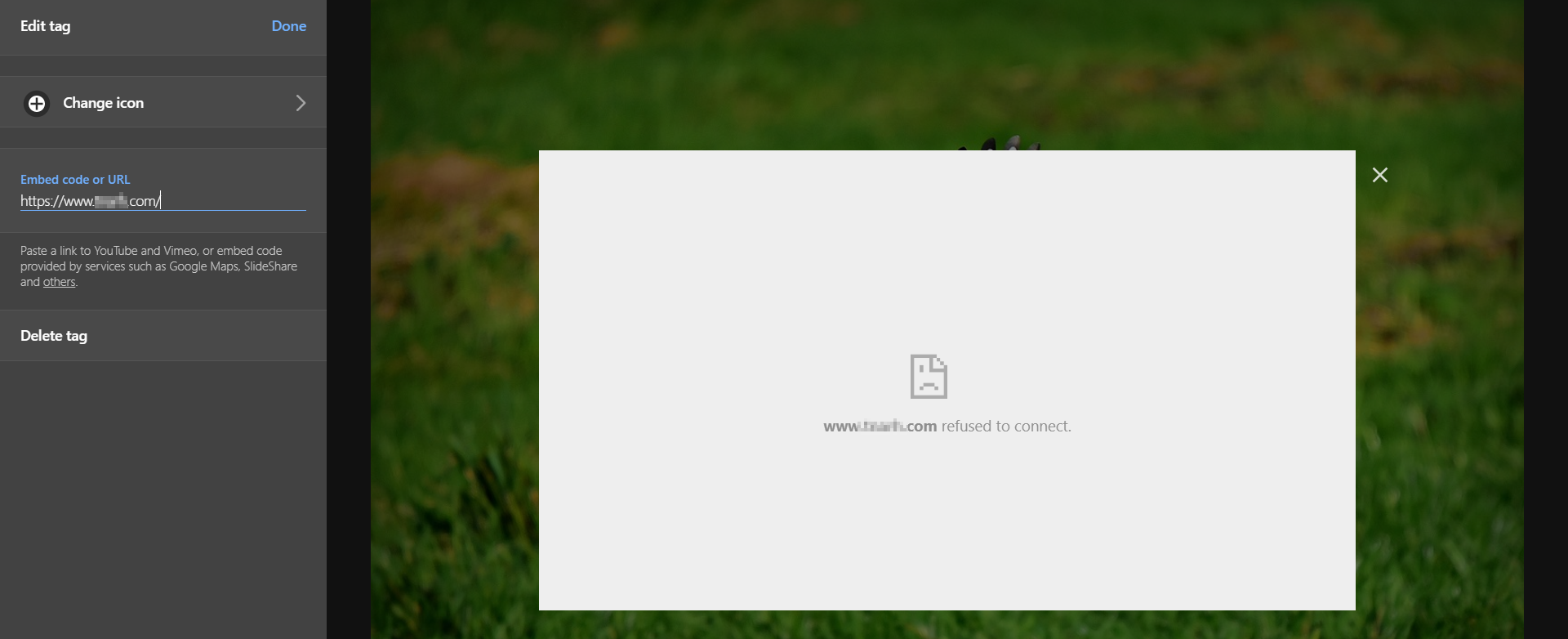 Furthermore, please make sure that the page you are embedding uses HTTPS. HTTP embeds most likely won't be loaded in most modern browsers due to security reasons. Sometimes, simply adding an S to the website's URL will solve the issue.