Click the links below to quickly jump to sections about:
ThingLink requires 360 images and videos to be equirectangular, or, in other words, have a 2:1 aspect ratio. Some 360 cameras, such as newer Ricoh Thetas and Samsung 360, produce dual-fisheye output instead of equirectangular media: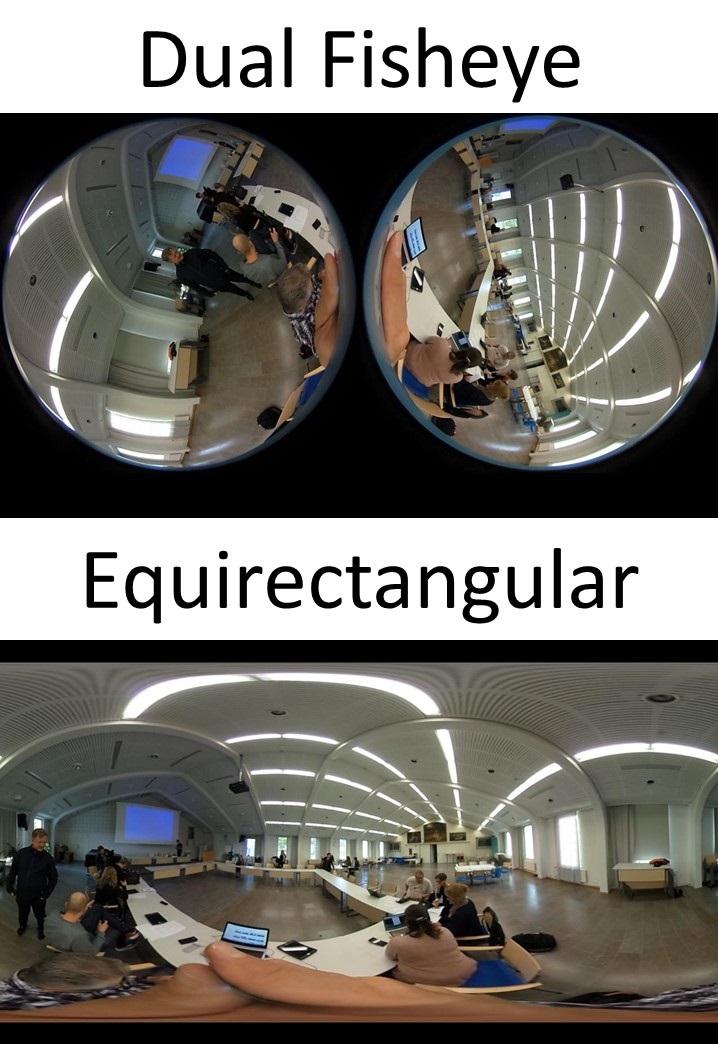 As a result, the images and videos must be converted prior to uploading them to ThingLink.
If your camera is not listed here or you are unable to get a compatible file, please submit a tech support request and we'll do our best to help you.
Ricoh Theta
Download and install the basic desktop app for Ricoh Theta cameras from the official website
Drag and drop the fisheye file into the app window, or open it via 'File' - 'Open'
Save the converted file and upload it to ThingLink
Samsung Gear 360
For images, we recommend using the Samsung Gear 360 app for Android and iOS.
Download the app from Google Play Market or Apple AppStore.
Follow the 'Connection guide' inside the app to connect the camera to your phone
Tap Gallery
On the 'Gear 360' tab, tap on a media you wish to convert
Tap 'Save', then open the 'Phone' tab
Open a photo or video, then use the 'Share' menu to export the file to your computer
Upload the file to ThingLink
Alternatively, you could use the Gear 360 ActionDirector app for converting videos:
Download and install the Gear 360 ActionDirector app from Samsung's support website
Follow the on-screen instructions to activate the app
Open the original file. This will automatically stitch it to the equirectangular version and save in the default folder
Upload the stitched file to ThingLink
Insta360 cameras
Insta360 uses a special file format (.insp) for its output which is not compatible with ThingLink.
Download Insta360 Studio desktop app from insta360's official website: https://www.insta360.com/download.
Open the app, then drag and drop the insp file that needs to be converted. Alternatively, you can click 'File' - 'Open' and select the file.
Click on the 'Projections' button below the image and select 'Flat' from the drop-down menu. By default, the button will read 'Fisheye'
Make sure that the image resolution is below 8192 x 4096 pixels. You can adjust the image resolution on the right-hand side.
Select the output directory in the bottom-right corner and click 'Export to'.
The output directory will contain a .jpg file that can be uploaded to ThingLink.