For a while now, you could use markdown to apply basic text formatting options (bold and italic) to description text inside 'Text & media' and 'Text label' tags. This update adds new formatting options and text formatting buttons inside the editor interface.
What formatting options are available?
Italic, bold, inline links, ordered (1, 2, 3, ...) and unordered lists (bullet points). To use each option, simply select the text string inside the 'Description' field and use the corresponding buttons to apply each formatting option.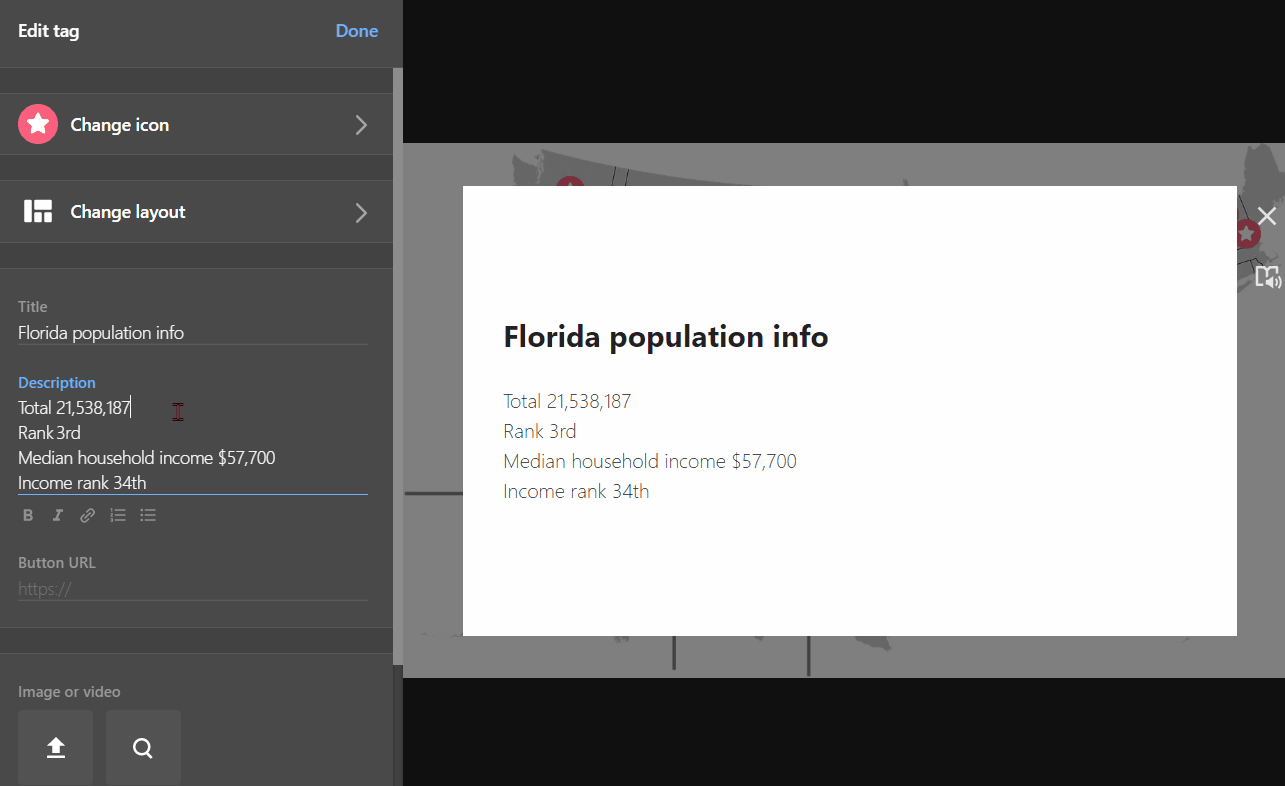 If you'd like to remove the formatting, select the text and apply the same formatting option again or remove the markdown symbols.
Note that you can also customize text and link button colors. For more information, see Customization.
Syntax
You can also use markdown syntax instead:
Bold text: put two asterisks on each side of the character string: **example**.
Italics: put the text between two underscores: _example_.
You can

combine

both options by using asterisks and underscores.
Hyperlinks: put the text inside square brackets and add the URL in parentheses like this: [learn more](https://support.thinglink.com).
| | |
| --- | --- |
| Syntax | Result |
| **bold** | bold |
| _italics_ | italics |
| [submit a request](https://support.thinglink.com/hc/en-us/requests/new) | submit a request |
Notes
Please note that this update changed the markdown syntax. As a result, any text that was bold prior to the update will now be italicized. Please update the text formatting if this affects your content. We apologize for the inconvenience.
This update was released on June 28th, 2022.
Please note that the final result may differ based on the viewer's browser. For instance, bold text is very similar to normal in Firefox.
The options described here do not work with the 3D model editor. For more information on what formatting options are available for tagged 3D models, see 3D model tagging.
If you have any questions about this update or need more formatting options, please reach out to our team.