Setting Up Teams
It is possible to set up Thinglink inside Microsoft Teams, the leading online collaboration platform, as either a static tab or a configurable tab.
Any Office 365 user with proper permissions may install Thinglink as a part of their Teams experience. Installing ThingLink to Teams will show your personal ThingLink account and ThingLink editors inside Teams. You will be able to create regular and 360 images and share them with your team members.
Install: Adding ThingLink to your Team
To install Thinglink:
Open Store -> Search for "Thinglink" -> Click "Install".
If you cannot find the ThingLink app or the app requires admin approval when you try to sign in, please ask your Teams admin to reconfigure Teams app permission policies: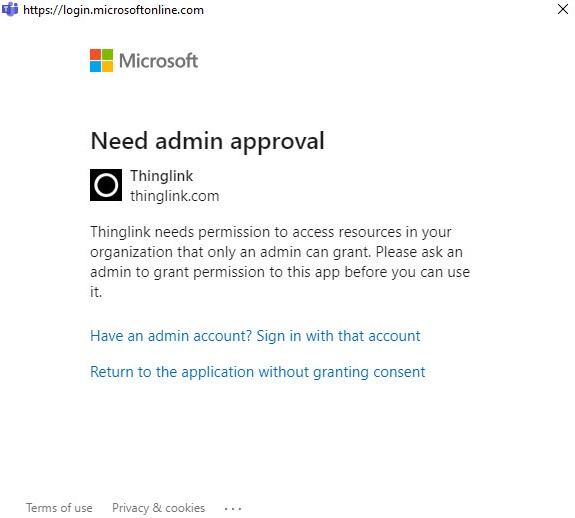 You can also reach out to our customer support here.
Using Thinglink
Click the three dots on the left side of your screen and choose the "ThingLink" application. ThingLink for Teams works only with Microsoft 365 Login. Click "Sign in with Microsoft" and you should be in your normal account (see below).
If you do not yet have a ThingLink account, one will be created for you and you will see our welcome experience.
Configurable Tab: Adding Group View to Teams
You may also install any one of your groups (classroom or shared folder) in the group chat once you have installed Thinglink for your Teams. Just click the "Add tab (+)" button on top of your team chat window and choose Thinglink.
You will then see a dropdown that lets you choose which Shared Folder/Classroom to add to your Teams.
This is a shared resource - if users cannot edit or view the content, ensure that they are logged in and that they have activated the ThingLink app for their Teams.
The contents of this tab are shared and are accessible to all persons inside the Team, so please be mindful of visibility issues - if you use private images inside a configurable and shared tab, they will not automatically be visible to the viewers if they do not have proper permissions.
Note also that if users have proper permissions, they will be able to edit the content as well. This provides great opportunities to share and collaborate on images!
Example:
Sharing images
When you find an interesting image or 360 image, click on the Share (or 'Publish') button. You will now see a new tab called "Teams" which will give you a deep link that you can share in a chat. When clicked, this will automatically open the image inside Teams as a popup.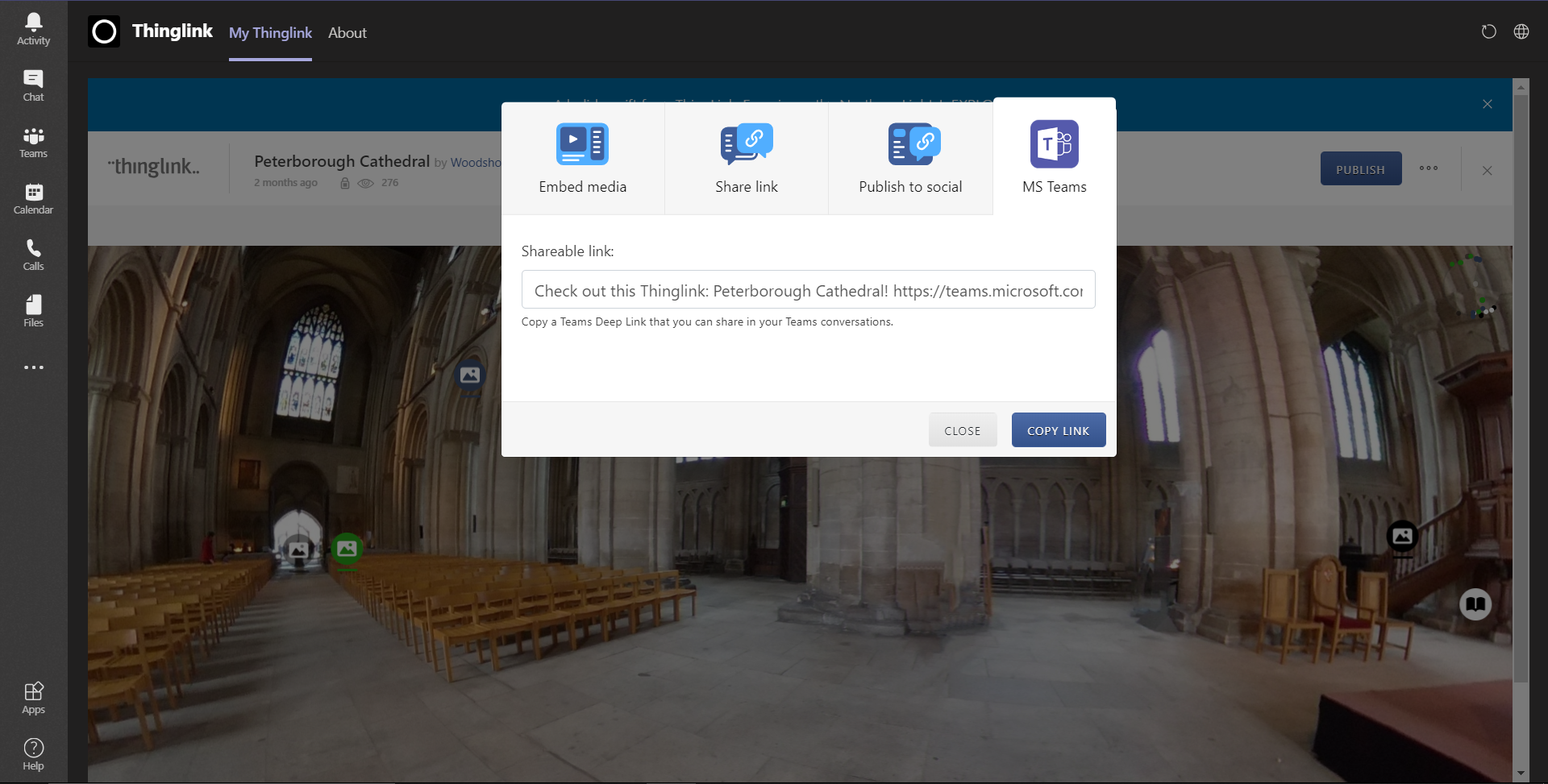 Please note that this button will not appear if you are using ThingLink outside of the Teams app.
Microsoft Teams FAQ
Is all Thinglink functionality available in Teams?
Yes, most of Thinglink is available, except for alternate login methods. You will need to set up Microsoft 365 Login to use Teams with a Thinglink account.
I am using Google Login, how do I use Teams?
Sign up to a new Microsoft Account and use your Google email address.
Do I use my Microsoft Account or my work/school account?
Both are supported. However, using your work/school account may need your administrator to first approve Thinglink for use, depending on your policies or permissions we need.
I cloned an image and the image (or a tag) disappeared or never loads!
Teams requires all content to be served through HTTPS. In the ThingLink image database, there is still a certain amount of content that is stored on a non-secure HTTP site. This means that when you search images in the Explore section, some images can be viewed, but not cloned for your own use. All new content that you upload to Teams is served from HTTPS and works fine.
Some of my old content is not visible in Teams!
This is likely to be the same issue as above. Some old content is not available in Teams due to it being served from a non-secure URL. You can try reuploading the images, or request via a support request that we move the image to a secure site. If you are a developer and your custom tags aren't showing, please ensure that you have a secure URL set up from which to serve the tag content.
When will you support X inside Teams?
We are working on adding new capabilities to our Teams integration. Please join our Facebook group and let us know if there's something cool you'd like us to consider!
Known issues
Direct audio recording is not supported if you are using the ThingLink app via the MS Teams app. If you are using the web version of MS Teams, this feature will be fully functional.