'My content' page is the main dashboard where you can create new ThingLinks and manage your existing content.
To create a new ThingLink, simply click the blue 'Create' button: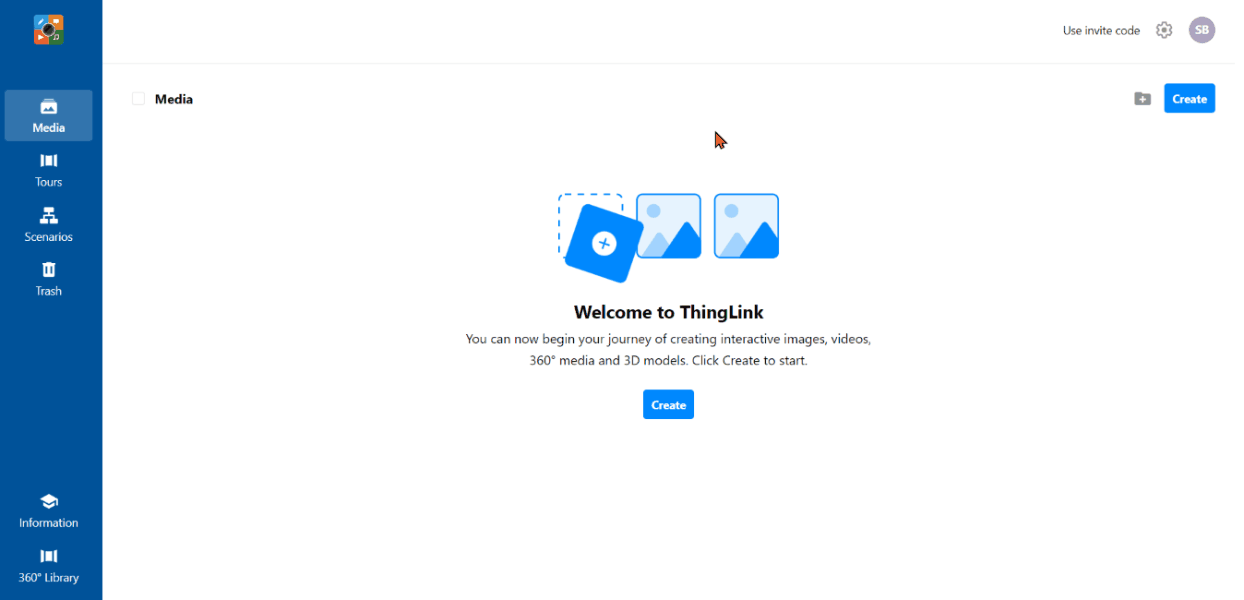 You'll see what kinds of content you can create. Select one of the options and click 'Continue'. You'll be taken to the next step:
Here, you can click the main area to pick a file from your hard drive or use a number of third-party integrations:
'Google Drive' allows you to upload compatible images or videos from your Google Drive cloud storage;
'OneDrive' allows you to upload files from Microsoft OneDrive;
'Design with Canva' allows you to create a design from scratch using Canva. If you already have a Canva account, you'll be able to pick one of your existing designs. Learn more about the integration here.
'Unsplash' allows you to search a database of plain photos and images;
Once you've selected the files you'd like to upload, they'll begin uploading to ThingLink. Click the 'Continue' button once all files are uploaded and you'll see them in your dashboard.
Note that ThingLink will determine the content type automatically. Any images or videos with a 2:1 aspect ratio will be uploaded as 360° media. You can review the full upload specifications here.
Managing existing content
Whenever you open an existing project, you'll see a number of options: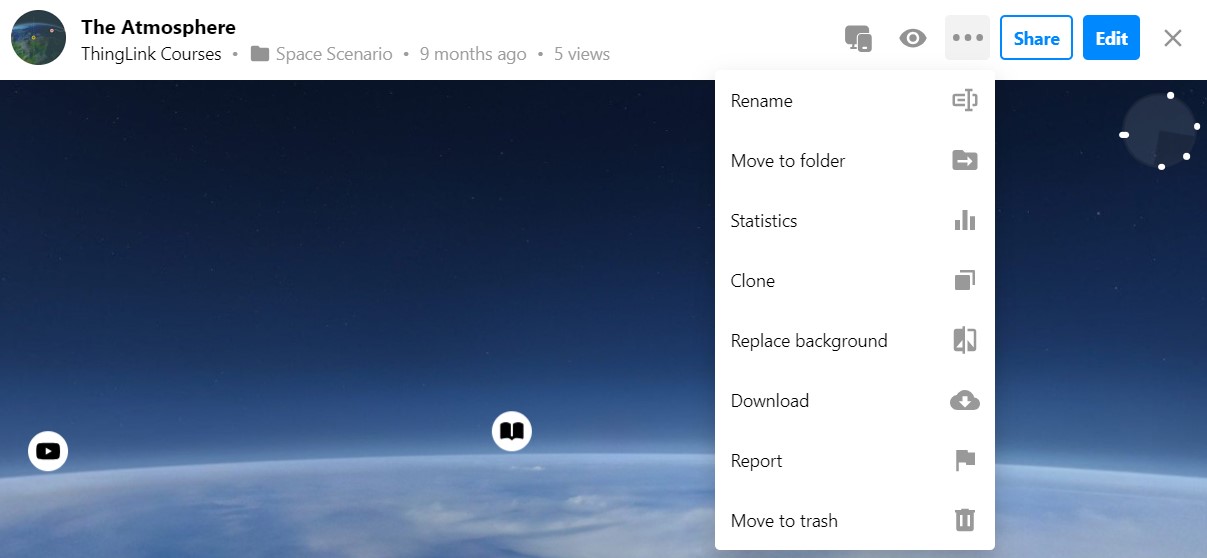 'Share' - share your content via a link or using the embed code. See this article for more information.
'Edit' - opens the editor mode for this scene.
'Preview on devices' - preview what your content looks like on different screen sizes & devices.
'Privacy settings' (eye icon) - control who can access this scene. See this article for more information.
'Rename' - changes the scene title.
'Move to folder' - allows you to move content between folders if you have access to this feature.
'Statistics' - shows the content engagement statistics for this scene.
'Clone' - creates a copy of this scene. Please see this article for more information.
'Replace background' (images & 360 images only) - replaces the background image without removing the tags. See here for more information.
'Replace thumbnail' (videos & 360 videos only) - replaces the thumbnail for your video.
'Download' - shows the token you can use to download this scene for offline viewing. Please see this article for more details.
'Move to trash' - moves the content to your trash bin where you can either delete it completely or recover it. Learn more here.
You can also access these actions from your main 'My media' page by hovering over the media thumbnail and clicking the three dots button: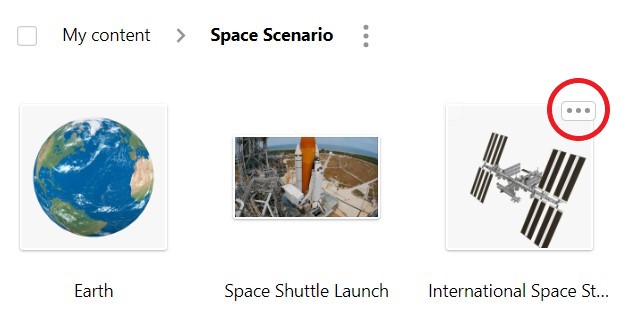 Note that the options will differ slightly depending on the media type, your subscription plan, and your account type.
Bulk content management
When hovering over media, you can tick the box to select multiple files. You'll be able to carry out a few bulk actions by clicking the icons above the media: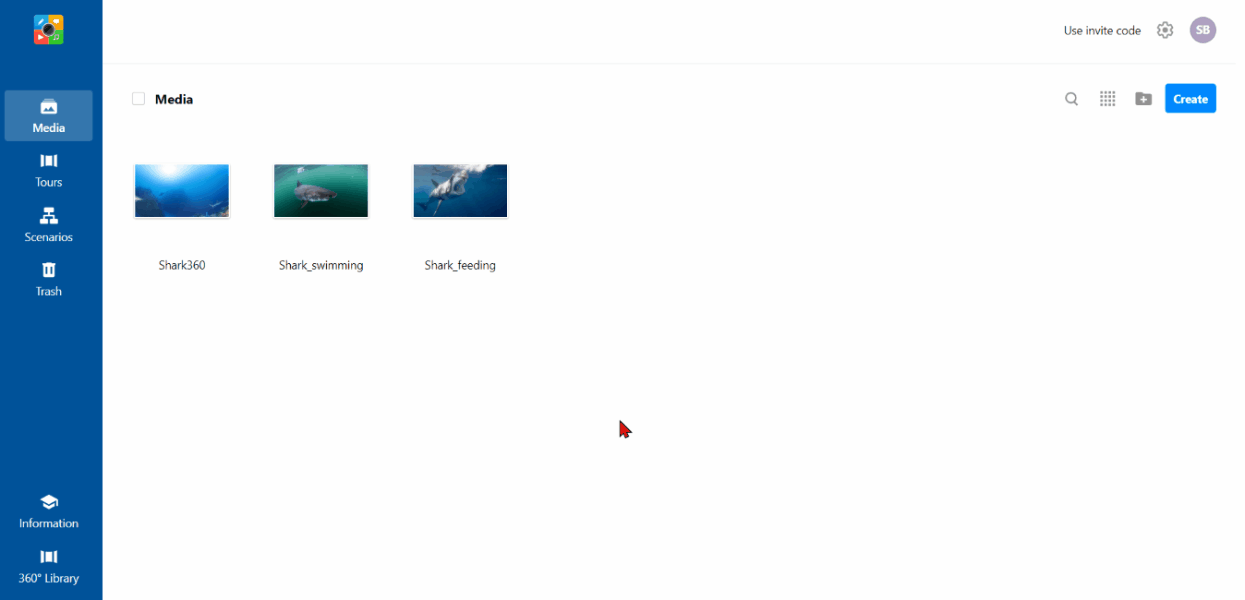 You can also select all content on the page by ticking the box next to the 'Files' heading or the folder name. Use the box to unselect all selected files.
You can also select & manage multiple folders at once.
Folders
All paid plans give you access to folders which you can use to organize your own content or collaborate with your colleagues. You can learn more about folders here.